Parts washers Manchester
Whatever your needs from a parts washer, Pure Clean Waste Solutions has the answer – serving Manchester and beyond we provide products and services that help businesses run smoothly and within all UK and EU legislation.
For most people and businesses the removal of waste and cleaning of parts is at best a necessary evil, for us we can genuinely say it is our life.
We take our commitment to you and the environment seriously, whether we are providing a complete bespoke consultation and undertaking hazardous waste disposal or leasing you a small parts washer we offer a dedicated, professional service.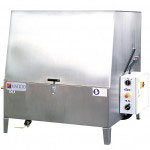 For Manchester businesses in need of a parts washer, we have two types to consider – degreasing parts washers and aqueous parts washers.
Don't worry, though! You don't have to be an expert on the differences between the two types of parts cleaners, instead call us today on 0161 430 1111 and we will be happy to discuss all your needs and offer friendly, honest advice – we can even come and visit your Manchester business to discuss your needs in person.
Of the two systems, the aqueous is the more modern. These units offer outstanding cleaning in a range of sizes, and yet they are friendly on the environment; the solution used being biodegradable. Using a water-based solvent, these are less abrasive on the environment and yet have a performance that is undiminished. These machines work through the hot solution being directed at the parts under high pressure, effortlessly forcing the grime away.
Hands dirty – relax Manchester, we'll make cleaning parts far easier with our parts washers
A further benefit of these machines is their long-term usage, highly reliable they are also future proof – their environmental credentials mean they will comfortably fulfil any likely future regulations from the UK or Europe.
As with all our washers, the aqueous parts cleaners come in a range of sizes – from a machine that's great for washing small parts to units with near 300-litre capacity that can take all that's thrown at them and leave parts looking spotless.
Irrespective of size, all units have superb cleaning capabilities, effortlessly shifting the muck, while many have features that take even more of the work out of it – automated programmes, wash time presets. The best aqueous cleaners make cleaning complex industrial parts as simple as putting plates into the dishwasher.
For others, our degreasing parts washers might be the perfect choice.
These washers, as with the aqueous, can be leased at hugely competitive rates, or bought new. We even have some used units on offer at times meaning small degreasing parts washers can be picked up for a few hundred pounds.
The degreasing washers might not be based on as modern technology as the aqueous but their cleaning quality cannot be denied.
These machines are great at shifting stuck on grime and dirt without breaking the bank grime from garage tools and similar without breaking the bank. And the fact that you can pick them up so reasonably does not mean quality is affected, with these units safety is in no way compromised.
Based on a sink-on-drum design, the drums have UN approval and the machines easily fulfil all safety criteria, come with health and safety advice and through the fusible link device eradicate all risk of fire.
Depending on the size of your business and cleaning needs, we have a parts washer to match and we are more than happy to visit your premises – in Manchester or outside – to discuss any individual needs.
An added benefit of a visit is we can give advice in where to house the washer, including giving thought to ventilation. Our experts will make sure your fully-fitted unit conforms to every regulation.
As well as being hugely competitive on price – with machines available to hire, or buy from a few hundred pounds to several thousand for larger, state of the art automated units – we pride ourselves on our attention to detail. We like to talk to our customers to ensure what they'll be getting is perfect for their business – our plan for growth is entirely based on customer satisfaction and loyalty.
Please have a look around the site and call us on 0161 430 1111 for a no-obligation chat about your needs. Serving the Manchester area and beyond, we can help you get the parts washer that's right for you – at the right price.