Parts washers Leeds
Pure Clean Waste Solutions are experts in providing parts washers to Leeds. Whatever your business needs, from a small washer to the latest automated device, contact us today – we have the products to help, all the while keeping you within the latest legislation.
We realise it's not glamorous work but none the less waste removal and cleaning parts is essential. We are experts at getting our hands dirty to help local businesses.
Whether providing a complete solution, with consultation and hazardous waste management, or just leasing a small parts washer we offer a professional and dedicated service. Word of mouth referrals are essential to our business so your happiness is of huge importance.
If you're a Leeds business after a parts washer, we have two types to consider – degreasing parts washers and aqueous parts washers. 
Call us today on 0161 430 1111 and we can discuss which type is right for your business – we'll happily discuss your needs and our staff always offer friendly, helpful advice. Should it help, we can come out to offer a free site visit and chat through your specific needs.
Of the two systems, the aqueous is the more modern. Coming in a range of sizes, these are friendly on the environment using a biodegradable solution to clean. However, their cleaning power is undiminished.
These units are also truly future proof, their environmental credentials meaning they are set to fulfil all likely future UK and EU regulations.
The smallest aqueous parts cleaners are great for washing small parts, while the biggest have near 300-lite capacity. These can take whatever dirt and muck is thrown at them!
Small but perfect! Your parts washers for Leeds
Whatever the size, all units have superb cleaning capability while many have features to make the whole process that bit easier – automated wash programmes and temperatures. The best aqueous cleaners make cleaning complex industrial parts as simple as putting plates into the dishwasher.
We also offer the degreasing parts washers and for many these will be the perfect choice.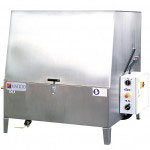 Available – as the aqueous are – at competitive lease rates as well as to buy, these again cope with all the grime and grease parts collect.
The technology behind these parts washers is not as modern as the aqueous, yet their cleaning remains superb. They also won't break the bank, new and used units can be picked up in some sizes for just a few hundred pounds.
The degreasing parts washers are based on a sink-on-drum design, the drums have UN approval and the units easily fulfil all regulations; they have health and safety advice and a fusible link device that removes all risk of fire.
For your parts washer needs in Leeds we will happily visit your business, we can give honest advice as to what machine is best and the best location – including giving thought towards ventilation if required. Our experts will ensure that the whole process is worry-free.
Please have a look around the site and call us on 0161 430 1111 for a no-obligation chat about your needs. Serving the Leeds area and beyond, we can help you get the parts washer that's right for you – at the right price.