Hazardous Waste Removal Liverpool

All Liverpool businesses have a legal obligation for their hazardous waste removal to be carried out by a fully licensed, professional hazardous waste management company.
Pure Clean Waste Solutions help you meet that obligation at minimal cost and without disruption to your business.
We pride ourselves on the high quality of our services tied to cost-consciousness and tailoring the right solution for waste removal  exactly to your requirements.
And our fully accredited company makes sure you have peace of mind by correctly supplying you with relevant documents to show your full compliance with waste disposal guidelines.
3 Simple Steps to Choose the Right Waste Management Company
Step 1
Is your hazardous waste covered by us? – check our hazardous waste collection services
Step 2
Do you qualify for cash back for the recycling of your waste?  – check our recycle reward.
Step 3
Call 0161 430 1111 now and discuss the removal of waste from your Liverpool company. We will only offer a solution and free quotation when we fully understand your exact needs to ensure we don't waste your time.
Get Low-Cost Compliance today…
We are based in the north west and service the Liverpool area, along with other areas of the UK.
We aim to form a friendly and effective partnership with all our Liverpool customers to ensure they get what they need without fuss or unwarranted expense.
Our Services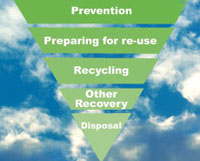 Hazardous waste management is understandably one of the most regulated industries due to the damage potentially caused to the environment by improper waste disposal.
Your Liverpool waste is collected by one of our fleet of ADR-approved vehicles by staff accredited and experienced in the safe collection, removal and disposal of hazardous waste.
You then will have peace of mind by gaining the necessary documentation to show your complete compliance with the latest legal guidelines.
Summary of Waste Removal Services Liverpool
Keenly priced
Fully compliant
Easy: we provide your compliance documentation
Licensed and accredited
Bespoke to your requirements
Morally and environmentally responsible waste management company
We can offer full hazardous waste management services to your Liverpool business, including-
Environmental Health Checks
Site waste audit
Waste Analysis and Characterisation
Packaging/Containers and Labelling
Transport Management
Materials Reuse and Recycling
Paperwork trail and Record Keeping – including consignment notes and duty of care notes
Attendance and involvement during any Environment Agency visits.
Call now on  0161 430 1111 for the best solution for waste removal, or take advantage of a free site visit for advise on waste management